Recently we have made it to the Anne & Stiil magazine's chart of the best Estonian natural beauty products.
We are proud and happy to be in such a great company.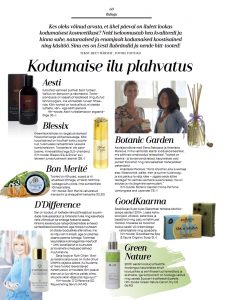 Galinka.co.uk, a UK blog on beauty and well-being has recently posted an extensive interview with Botanic Garden.
To know more, please click here.
Botanic Garden handmade cosmetics and accessories brought to you by an aspiring and dynamic company. We create organic cosmetics using our own recipes for "Harmony and Beauty" coupled with the Ayurvedic knowledge.